DDoS Attacks Mitigation and Cyber Security Solutions
Explore our network security services to ensure continuous DDoS mitigation and safer network perimeter for your business.
DDoS Atttacks Mitigation
A Distributed Denial of Service (DDoS) attack is an attempt to make an online service unavailable by overwhelming it with traffic from multiple sources. They target a wide variety of important resources, from banks to news websites, and present a major challenge to making sure people can publish and access important information.
Depending on the nature of your enterprise, we understand that 'down time' is literally not an option. However, a Distributed Denial of Service (DDoS) could wipe out or limit access to your site and servers for hours, days or even weeks.
Our DDoS Attacks mitigation service protects you from all types of DDoS Attacks, whether you have a single server or an entire infrastructure hosted with NetShop ISP.
How It Works

Detection
Monitoring capabilities are typically backstopped by anomaly detection technology that's tuned to network baselines and polices, as well as to threat intelligence sources that track the latest indicators of compromise (IOCs) associated with the most recent DDoS attack tactics. These detections then trigger reactive responses from automated technology and our DDoS mitigation experts.
Traffic Diversion & DDoS Mitigation
The filtered traffic is forwarded to the protected application either through the public Internet or through a specially deployed L2 VPN. DDoS attack traffic is blocked at the perimeter of our global DDos Protected network, never reaching the client's resources. Our systems' network operation is completely invisible, both to the business and its application's visitors, which means an uninterrupted business even during an attack.
Traffic Analysis
By leveraging big data technologies for storing network events as they happen and by accessing this data repository in the cloud, our intelligent DDoS protection service improves improves its algorithms and makes on the fly adjustments to the available filtering methods, allowing further strengthening of the mitigation techniques.
DDoS Protection Key Features
15 Points of Presence Worldwide
With direct conection to Tier-1 providers in 15 regions around the world we ensure a top-notch, low-latency connectivity in North America, Europe, the Middle East and Asia.
3000 Gbps+ Throughput
Benefit for a total throughput capacity of more than 3000 Gbps, meaning we can handle more than 3000 Gb of traffic per second.
BGP-Anycast Architecture
With BGP-Anycast architecture we guarantee a fault-tolerant connectivity to your protected applications and hosted infrastructure.
DDoS Protection Billing Plans
Speak to a Cyber Security Specialist Today
Fill out the form, and we will contact you to discuss your requirements.
Web Application Firewall
Robust and well implemented network infrastructure security is essential for all businesses' secure communications and safe operations. Acting as a barrier against malicious activity and other threats, a firewall is essential for maintaining a safe environment.
Web application vulnerabilities can become the main target of attackers (along with social engineering) and serve a convenient entry point for further attacks. Attack vectors are constantly changing, recent statistics say that today's average is a number of high-risk vulnerabilities per one web application.
Designed to protect networks from both internal and external threats, and vulnerabilities like DDoS, unauthorized access and malware, a Web Application Firewall (WAF) is an optimal solution for network security concerns.
WAF Key Features
Flexible Solution
A Web Application Firewall can be deployed as a Hardware appliance in any of our global Data centers, as a Virtual machine on the Cloud and even as-a-Service fully managed by NetShop ISP.
Affordable & Easy to Start
Cloud-based Firewalls can be deployed using our basic protection recipes. Starting from €125 per month, a Cloud WAF can be deployed within minutes!
Fully Managed
Our Network Security will take care of the on-going administration of your WAF, guaranteeing your business is always protected against zero-day threats.
DNS Protection
One of the frequently used types of DDoS Attacks is when attackers target a network's DNS system. In the case of a DNS-based attack, all hosted services (websites, emails, applications) under a DNS zone are overloaded and eventually become unresponsive. Without a special DNS-level protection, the only way to mitigate from such DDoS Attacks is to increase the number of servers and/or their throughput.
Through our premium DNS service your websites, server-hosted applications and mail servers can benefit for a best-in-class DNS Failover feature. When an issue is detected, appropriate actions are taken to modify your FQDN's IP address to another, failover IP address, with a global propagation of 30 miliseconds.
Key Features of DNS Protection
100% Uptime Guaranteed
By leveraging a 30ms TTL propagation for DNS record changes, we ensure that your DNS-protected applications remain Always On.
Most Secure DNS Network
Our DNS technology implements a proprietary "scrubbing" algorith to filter all DNS queries before reaching your Domain's Zone.
Multi-tiered, Redundant Network
Each of our four nameservers assigned to your protected Domain Zone is part of a multi-tiered cluster of thousands of redundant servers.
Нужна консультация?
Не можете выбрать подходящее вам решение?
Хотите стать партнером?
Security Hardening
Security hardening is important because it can mitigate the effects of possible cyberattacks, and it is key for securing the data and operations of your server. It is a necessary strategy that helps to support business uptime and continual operations.
By its broader term, security hardening, is the process that involves securing data, fine-tuning operating system firewall, and configuring secure authentication and user permissions on a hardware, network and software layers.
In addition to the DDoS Protection mechanicms and services explained in this page, it is vital that cloud or dedicated servers used for business critical missions, have gone, at least once a year, through a security hardening process.
The Five Pillars for Enhanced Network & Server Security
Firewall Setup
Setting up your firewall is a wise way to monitor traffic within your network and block unwanted traffic coming from outside the network, which can help prevent attackers from entering the network in the first place. In addition to any network perimeter firewalls may be in place, cyber threats are oftenly blocked by the Operating system's firewall rules.
Authentication & Permissions
A single server may be used by different users within an organization. A systems admin will require different permissions than a database analyst whose only job is to extract and analyse data from the server. Configuring effective Access Control lists (ACL's) ensures that the server and its data are protected from unauthorized access. Additionally, configuring a password-less authentication mechanism on Windows and Linux servers is proven to be an efficient and secure Access control method.
Software & Packages Patching
Unpatched software and out-dated systems make the server highly vulnerable to cybercriminals. Through the security hardening service, we implement a patch management process that involves monitoring of zero-day vulnerabilities, security fixes categorization, patch testing and live deployment. This approach ensures that whilst your server environment is always kept up-to-date, there is no conflict between updated packages and the currently installed software.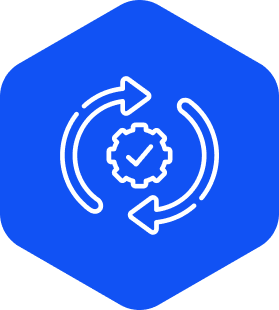 Backup & Disaster Recovery Strategy
A well-thought backup and disaster recovery strategy is always proven to be a life saver for business critical applications. Using designated backup software optimized for the bespoke needs of the data types residing on a server, any business can recover quickly from a disaster whilst ensuring a minimum, or zero, data loss from an incident.
Continuous Monitoring
Continually monitoring a server or a website is an on-going process in a security hardening workflow. Server monitoring increases the awareness of what's happening on a server in terms of processes running, users authentication and resources utilization. This knowledge allows you to be proactive in your efforts to secure your server.
DDoS Protection FAQs
What are NetShop ISP's technical support hours for assistance with DDoS Attacks?

What changes do we need to do in my infrastructure for NetShop ISP's DDoS Protection service to be in effect?

After subscribing to NetShop ISP's DDoS mitigation service, we are seeing high number of queries on our server. Is this normal?

Can I disable/enable the DDoS protection service on demand?
We work on a 24x7 basis, 365 days around the year.