Infrastructure & Cloud Migration Services
Professional Migration services for On-premise Infrastructure, Mail Servers, Databases, Web Applications and Virtual Machines.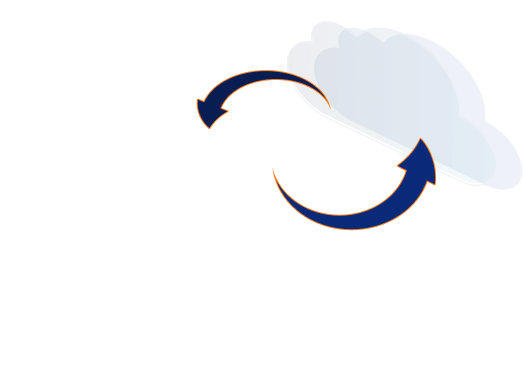 ---
Migration Benefits
Our guarantees for your business' migration project
Minimum Downtime
We understand the impact of downtime for any business and so we invest time in planning the migration project in order to achieve the lowest downtime possible.
Zero Data Loss
Our migration service guarantees that all of your data will be migrated successfully without any loss or integrity damage.
Guaranteed Results
We are proud for delivering exactly what we have promised during the migration period's pre-assessment phase.
Dedicated Project Team
Each migration is handled by a team of experts who will be dedicated to your project from beginning to end.
---
What We Can Migrate
Modernize your business with endless migration possibilities
On-premise Infrastructure
Migrating your on-premise infrastructure to the Cloud or to any of our Data Centers will help you reduce IT expenses and shift your business to a more scalable, affordable and redundant infrastructure.
Cloud Servers
We can assist with migration of servers deployed on Public Cloud such as Amazon AWS, Microsoft Azure, Google Cloud, or any other cloud provider. Transfer Cloud servers from one provider to another, or to your own Private cloud infrastructure.
Email Servers
Our professional email migration service can be utilized for recovering from a broken mail system, or to shift from and to Microsoft 365, Microsoft Exchange, Zimbra, or any other email platform.
Websites & Web Applications
Using a variety of Devops tools we can successfully migrate your website or any other web-based application with zero data loss and a minimum down time guaranteed.
Backup & File Servers
Migration of data from Backup & File Servers is crucial before you perform any major system updates. Our migration service will guarantee the integrity of your data and we can help you restore them to their original location or a new system.
Virtual Machines
Our experienced system engineers can assist with migration of Virtual machines from and to any virtualization environment such as Citrix, VMWare, Hyper-V and KVM.
Databases
One of the most critical components of a business' infrastructure is where the data is hosted. Whether you are upgading your Database software, or dealing with a degraded Database, our Database migration will ensure your data remains intact.
Data Center Infrastructure
Moving your infrastructure from one Data Center to another can be a daunting task. Our migration experts can help with the pre-migration plan as well as the execution of the physical move.
Migration Service FAQs
Is Migration Service Free of Charge?

I have outdated servers in my office infrastructure which I need to migrate on a Datacenter or Cloud. Can you do it?

I want to clone my existing Cloud servers for redundancy and disaster recovery purposes. Can you help me?

I have a Wordpress Website which I need to migrate. How long will it take for you to do it?

Can you migrate my emails without downtime?

Can you migrate a Microsoft Exchange Server to Microsoft 365?
If you are migrating from a Competitor we offer 4 Hours Migration assistance entirely Free of charge. For more information please contact our Sales team (sales@netshop-isp.com.cy)